Customer Loyalty Discounts for Small Business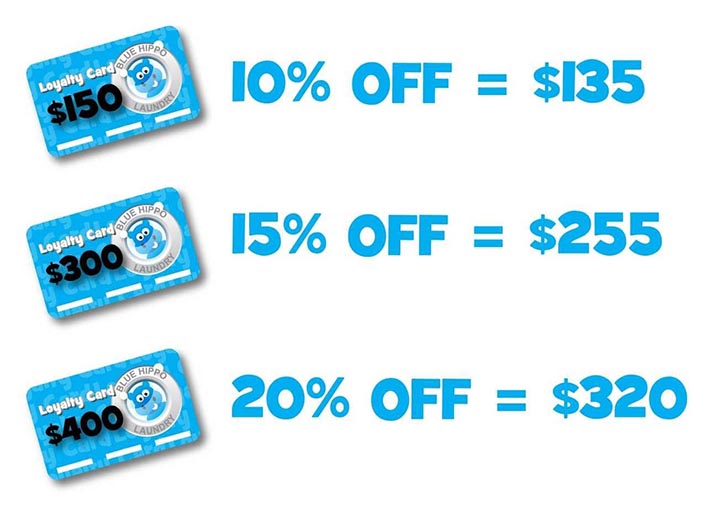 Blue Hippo Laundry has many small business customers who own hair salons, nail and beauty shops, physiotherapies, gyms, cafes, catering companies etc, who cannot handle the expense of a commercial laundry service.
We also have many clients that run AirBNB let apartments and are looking for a Laundry solution for bedding and towels.
We offer discounts to our high use customers by offering prepaid discounted in house cards. This card can be swiped on a washer or dryer to start cycle. Being a cashless system it also gives piece of mind to business operators who send their own staff down to do the washing.
It is expected that the value of the credit on the card would be approximately the customer's monthly spend. The cards can be used at any of our Blue Hippo store locations.
Instant card credit top ups can be provided by sms'ing, emailing or calling our team. Tax invoices for and card purchases or card credit top up will be provided.

Blue Hippo Features
Free Wi-Fi at all locations | New, clean and reliable USA-made machines |Coin Change and soap dispense machines | Express wash - a week's wash in only 23 minutes | Doona was specialists with all size machines | Open every day of the year | Huge 27 Kg washers - great for big family
Blue Hippo Payment
All machine accept $1 and $2 coins | Cash to coin change machines are available | Visa/Mastercard/Apple Pay is available