We know how busy you are, which is why we offer the newest, cleanest and most reliable washers and dryers in every Blue Hippo Laundromat store. Our exclusive "EXPRESS WASH" technology will get you through a week's worth laundry in just 23 minutes. So if you are tired of visiting dirty and disappointing laundromats, give one of Blue Hippo Laundry's eight locations a try.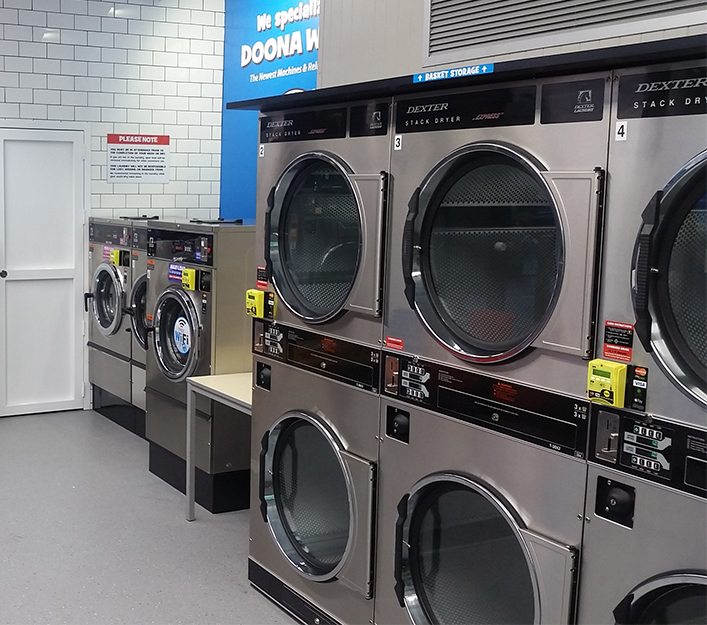 Blue Hippo Laundromat operates USA made Dexter machinery which are widely known as being the most reliable, user friendly machines in the industry today.
Most importantly, they provide fantastic wash and our customers love them.
All Blue Hippo laundromats provide a mix of washer sizes:
40 kg capacity (9 baskets) *
27 kg capacity (6 baskets)
18 kg capacity (4 baskets)
14 kg capacity (3 baskets)
9 kg capacity (2 baskets)
We also provide 6 kg (1 basket) Speed Queen top loading washers at our Yarraville and Norlane stores.
Don't waste your coins, we have the hottest dryers guaranteed! With multiple standard sized 13 kg dryers, and jumbo sized 22kg dryers that are big enough to fit a king-sized doona inside, you'll kiss those clothes lines goodbye forever.
Coin change machine and soap dispensing machine are available at all stores.
* Altona Meadows, Caroline Springs, Derrimut, Hoppers Crossing, Manor Lakes, Melton, Point Cook and Tarneit Central only

Blue Hippo Features
Free Wi-Fi at all locations | New, clean and reliable USA-made machines |Coin Change and soap dispense machines | Express wash - a week's wash in only 23 minutes | Doona was specialists with all size machines | Open every day of the year | Huge 27 Kg washers - great for big family
Blue Hippo Payment
All machine accept $1 and $2 coins | Cash to coin change machines are available | Visa/Mastercard/Apple Pay is available