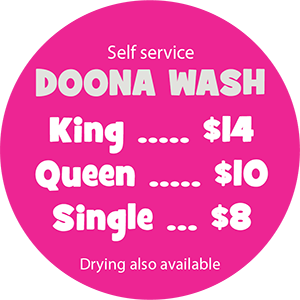 It is important to maintain a doona to prolong its life. The first thing to remember is to fluff or shake your doona regularly as well as air your doona. We recommend removing your doona from the cover and airing it outside for a few hours twice a year. This will maintain its freshness. A handy time to do this is when you are washing a doona or changing your doona covers. To achieve the best results, air in warm weather with a slight breeze.
Another strong recommendation is to wash your doona. Although it is a tedious task, it's important to undertake doona cleaning on a regular basis. Before tackling this task it's important to thoroughly read the label on your doona to avoid any damage. You may notice that a doona label stipulates that the doona should be professionally cleaned, however, it is possible to wash your doona at home or at a laundromat. Before you consider washing your doona at home, it's important to assess whether the size of your washing machine can comfortably manage washing your doona. The majority of household washing machines cannot accommodate a double, queen or king-sized doona. The good news is that all Blue Hippo Laundry's washing machines can! And best of all, once you've finished washing your doona you can pop it into one of our larger dryers for a quicker, more thorough dry!
Duvet washing is essential to both your health and a good night's sleep!
We have outlined some handy steps you may want to follow prior to washing your duvet at a Blue Hippo Laundry.
Prior to washing
Ensure that you remove the duvet cover. After this, check the duvet label to see whether it is a down comforter or feather duvet, rather than a hollowfibre duvet. If the duvet label states "Dry clean only" it's important not to go any further and instead take the duvet to a professional dry cleaner. If this is not stated on the label, then you can carry on with the process. The duvet should be thoroughly checked for any holes or loose feathers, if necessary, sew up the holes to avoid any feathers becoming loose in the washing machine. If you are satisfied that your duvet is secured, then you are ready to wash!
Recommended washing machine settings and detergent
Always ensure that the washing machine is set to a gentle wash with a warm (not hot) water temperature (around 30 degrees Celsius). Choose a mild detergent, unless your duvet is heavily soiled or stained. If your duvet has dark and/or very noticeable stains, you may want to use a detergent with a built-in stain remover.
Duvet Drying
When it comes to drying your duvet, it is best to use a large dryer and always follow the care instructions on your duvet label. In warmer weather, you can consider drying your duvet on a washing line, however, this will take substantially longer. When you dry your duvet on a line, if you remove the duvet from the line too quickly you can run the risk of mildew and mould growing inside the duvet. Your duvet may also develop a musty smell. You may want to consider partially drying the duvet in the machine, and then allow to air dry afterwards.
Blue Hippo Laundry has 19 locations throughout Melbourne & Geelong that are open 7 days a week. You can visit your local Blue Hippo Laundry in any of the following locations; Cranbourne, Northcote, Yarraville, Altona Meadows, Point Cook, Hoppers Crossing, Melton, Truganina, Tarneit, Riverdale, Manor Lakes, Derrimut, Cairnlea, Caroline Springs, Taylors Hill, Roxburgh Park, Werribee and Geelong at Norlane and Newcomb.

Blue Hippo Features
Free Wi-Fi at all locations | New, clean and reliable USA-made machines |Coin Change and soap dispense machines | Express wash - a week's wash in only 23 minutes | Doona was specialists with all size machines | Open every day of the year | Huge 27 Kg washers - great for big family
Blue Hippo Payment
All machine accept $1 and $2 coins | Cash to coin change machines are available | Visa/Mastercard/Apple Pay is available